The Syrian foreign minister has set out conditions for any UN investigation into the deaths of dozens of people from a chemical agent on Tuesday.
Walid Muallem told the BBC it would have to be non-political, involve "many countries" and "start from Damascus" before his government could accept.
He denied Syria had dropped chemical weapons from the air, despite facing widespread scepticism.
The UN children's fund has confirmed that at least 27 children were killed.
Russia, one of Syrian President Bashar al-Assad's few allies, was challenged by the US and UK at the UN Security Council on Wednesday when it sought to argue the mass poisoning had been caused by the rebels' own chemical weapons.
Washington has hinted it might change its policy towards Syria in response to the deaths.
What do we know about the deaths?
Warplanes attacked Khan Sheikhoun, about 50km (30 miles) south of the city of Idlib, early on Tuesday, when many people were asleep, witnesses and activists say.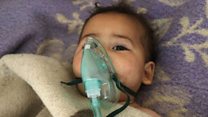 The opposition-run health directorate in Idlib province says at least 84 people, including 27 children and 19 women, were killed. Another 546 people were injured, many of whom remain in a serious condition.
Evidence has mounted that the victims were killed with a nerve agent such as Sarin.
Medical charity Medecins Sans…
click here to read more