President Donald Trump has removed his senior strategist Steve Bannon from the US National Security Council (NSC).
The appointment in January raised fears that the circle of US intelligence chiefs was being politicised.
A White House aide said the reshuffle was not a demotion for Mr Bannon, who used to head up Breitbart News.
The aide said Mr Bannon was only given a seat on the NSC to keep an eye on National Security Adviser Michael Flynn, who was fired in February.
Steve Bannon: Who is Trump's key adviser?
Trump's 'brain' Steve Bannon emerges from the shadows
The NSC is the main group advising the president on national security and foreign affairs.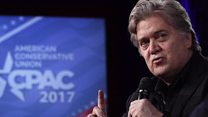 The White House did not announce Wednesday's presidential executive order detailing the shake-up – it only came to light in a regulatory filing.
The reshuffle also restores the director of national intelligence, CIA director and chairman of the Joint Chiefs of Staff to full participation on the NSC's inner circle, its principals committee.
Critics have branded Mr Bannon – who once managed populist, right-wing Breitbart News – as a white nationalist.
---
Palace intrigue – Anthony Zurcher, BBC News, Washington
Another day, another bit of palace intrigue in the White House. After a week in which presidential son-in-law Jared Kushner's power seemed to grow exponentially, another…
click here to read more