"Beautiful," Gabbana wrote in post, while also thanking FLOTUS and including the hashtags "DGWoman," "MelaniaTrump and "MadeInItaly."
Both praise and criticism of the designer quickly followed. 
One follower who disliked the photo wrote, "The LGBT community have been fighting so hard against these people for their rights. How can you. Unfollow, boycott." 
Gabbana, who is openly gay and has been criticized by LGBT publications for his support of the Trumps in the past, fired back in Italian, writing "vai a cagare," which translates to "go to hell." A spokesperson for Dolce & Gabbana said the label has no comment. 
He also told a few other followers to "go to hell" in Italian.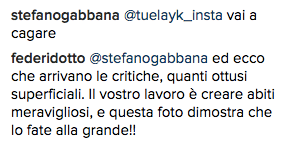 When another user said the photo made Gabbana lose both a follower and an admirer, the designer simply responded "i don't care!! Really."   

Gabbana, who admitted in the comments that he manages his own Instagram account, defended dressing Melania, writing in Italian that the picture didn't have anything to do with policy or politics. 
Despite the criticism, the majority of people writing on Gabbana's account praised the designer for posting the photo of Trump. 
click here to read more